Quality as one of the highest priorities

Quality is one of our highest priorities. Whether it is one-off production or series production, we always give our best – day after day. Systematic quality checks and our certified quality management guarantees outstanding quality, paired with complete safety of our products.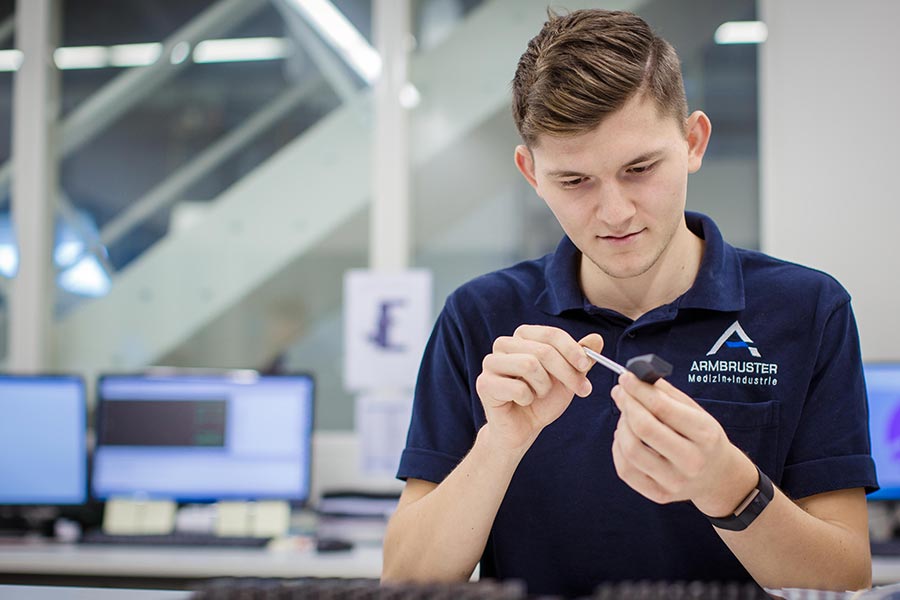 In our redundantly air-conditioned and temperature-monitored rooms for quality assurance, you will find high-precision and modern measuring equipment utilized by our well-trained team of employees.
Each and every product is subjected to a specific test plan and a challenging quality- and function control test. In addition to a final inspection we also check products during the production cycle to eradicate possible defects and to optimize the production process itself.
Inspection planning protocols, first-sample tests, samples according to AQL and 100% examination are our all part of our daily routine.
Besides calibrated manual measurement equipment, we also have tactile 3D coordinate-measurement-machines with servo wrist options and program-controlled optical measurement technology for our mechanical inspection.
Surface inspection is carried out using roughness measuring instruments.
Our quality management team is constantly working to optimize the quality of the process sequences through internal auditing, providing targeted further training for employees and ensuring transparent documentation.
Thus, we are better prepared for both announced and unannounced audits of business partners and authorities.
Naturally we are certified according to ISO 9001:2015 and ISO 13485:2021 and we also have FDA-registration.
Certificates DIN EN ISO 9001:2015
Certificates DIN EN ISO 13485:2021
FDA 21 CFR Part 820
Registration Number: 3013194153
Owner Operator Number: 10054478